An Update for 2021 from Round Midnight Creative Arts.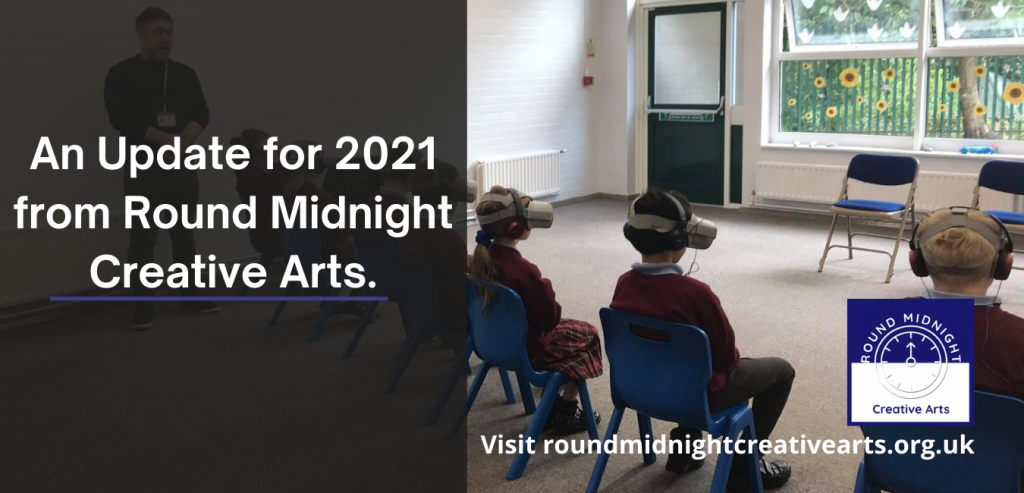 A third national lockdown has meant a change in 2021 plans. Continue reading to find out our creative solutions.
An Update for 2021 from Round Midnight Creative Arts
In the midst of the chaos that has been 2020 and the beginning of 2021 it would be fair to assume that we at Round Midnight Creative Arts have had to rethink our plan for the new year. But as our name would suggest, we've been able to get creative, and plan a 2021 that looks both safe and successful for the whole team and those we work with.
We are, luckily, able to work from home full time – so if you have questions or queries you can still contact us under our regular working hours of 9 – 5 by phone, email or through the website.
Working from home of course means that most of our creative delivery has had to be put on hold for the time being; including our Virtual_Decisions workshops.
Last year we received funding to deliver our ground breaking Virtual Reality program from:
The West Midlands Police Community Initiatives Fund
The Violence Reduction Unit's Vulnerable Children's Charities Fund
West Mercia PCC's Community Safety Partnership Fund.
These funds are vital to implementing our work in local areas, to help support young people who are at-risk of youth violence and criminal exploitation. We were due to be in schools and communities around the West Midlands and North Worcestershire throughout early 2021, however, with the third national lockdown upon us those plans have had to be postponed. We are now working with the funders, and the schools, to rearrange all bookings as soon as possible (all workshops can be delivered whilst adhering to the Government's social distancing guidelines).
We are continuing to work closely (and in a COVID safe way) with West Midlands Probation Services and the West Midlands Youth Offending Teams throughout lockdown number three. The work we are doing is vital to so many and we are fortunate enough to continue in our current capacity. But of course live theatre is where Round Midnight found its beginning, so we are eagerly awaiting the go ahead, allowing us to get back into schools and communities as normal. If you would like to discuss booking one of our programs please get in touch as our diaries are open.
Keep your eyes peeled for further news on our current and future plans. Keep in touch, and of course, keep safe.