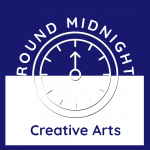 Round Midnight Creative Arts​
ENRICHING LIVES, BUILDING CONFIDENCE AND PROMOTING COMMUNITY COHESION
Round Midnight Creative Arts is a not for profit creative arts company that delivers high-quality projects to communities all over the UK.
"The whole performance and interactive Q&A was excellent. Acting and use of language was current and students were able to relate to the characters. The twist was bang on."
"This course has most definitely improved my self-esteem and confidence so that I can value myself without guilt - it has changed my perception of myself."
"What you've done today is you've made them feel that their opinion matters, that their life matters [..] and that what's going on with them outside of school is worth bothering about."
Our work is made possible by ambitious companies and organisations, both big and small that share our passion for supporting individuals within the community.
EMAIL:
info@roundmidnight.org.uk
CALL:
0121 440 8188
ADDRESS: 
Unit 8, 14-20 George Street
Balsall Heath
Birmingham
B12 9RG